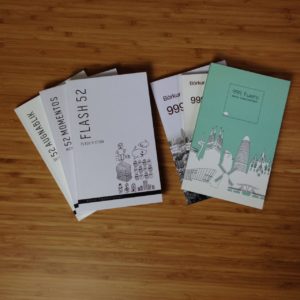 To celebrate World Book Day 2018 I gave away free ebook versions of my books.
The books could be downloaded in English, Icelandic or Spanish, as ePub, mobi or PDF. But even if this promotion is over, the stories can still be read online.
Enjoy!
Flash 52 is a collection of illustrated flash fiction.
Read Flash 52 online in English
Read 52 augnablik online in Icelandic
Read 52 momentos online in Spanish
999 Abroad is a collection of illustrated short stories.
Read 999 Abroad online in English
Read 999 Erlendis online in Icelandic
Read 999 Fuera online in Spanish