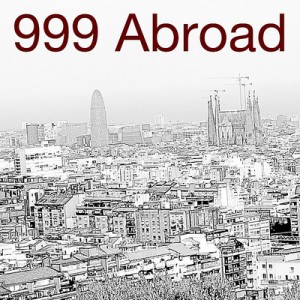 Cover by Börkur Sigurbjörnsson
999 Abroad is a collection of short-stories by Börkur Sigurbjörnsson. The stories are based on real events in the author's life as an Icelander living abroad. Although the tales contain grains of truth, they are melded with fiction, making the reader curious to know the line between reality and fantasy. Börkur is an avid storyteller whose narratives are packed with funny dialogs and vivid scenario descriptions. The title of the book comes from Registers Iceland and refers to the values used for postal-code and town in the registration of Icelandic citizens living abroad. The book is illustrated by Yana Volkovich.
Paperbacks and ebooks
999 Abroad is available as a paperback from Amazon and Barnes and Noble. The book is available for the Amazon Kindle ebook reader in the Amazon Kindle Store and for other ebook readers, tablets or smartphones in Apple Books and Kobo.
Online at Urban Volcano
The stories can also be read online:
Reviews
"I enjoyed the lyrical quality of the writing, the wry sense of humour and the sweetness of each story." — Rachael Rippon
"…the stories are an easy read, funny at times. A nice way to spend an afternoon reading. I liked the description of the surroundings and the people." — Laszlo Kugler