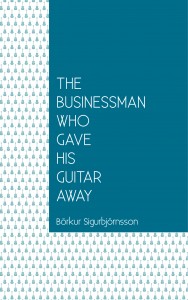 Cover by Ana Piñeyro
A short story by Börkur Sigurbjörnsson. A university professor is waiting for his connecting flight at Bogotá International Airport when he is drawn into a conversation with the man sitting next to him. Annoyed at first with being disturbed, the professor gradually becomes interested in the curious tale the man has to tell.
The Businessman Who Gave His Guitar Away is available for download in the Kindle Store and in the Apple Books.
Reviews
"This story is engaging as other Borkur's short stories but I noticed this one has more emotion than the previous ones." — Ruth Garcia
"I didn't get the point, but I liked it very much." — Anonymous Irishman
"too short … don't spend 99p on it. You'll just feel cheated when it stops because it's so good" — Witold