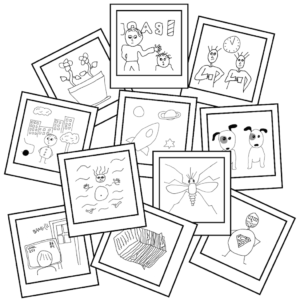 Flash 52 is a collection of flash-fiction stories by Börkur Sigurbjörnsson. It is the outcome of a year-long writing project where the author published an illustrated flash-fiction piece every week throughout the year of 2017. The stories relate a brief moment in the daily life, often revealing curious characters or intriguing situations.
e-books and paperbacks
The book is available as paperback on Amazon and as an e-book in the Kindle Store and Apple iBooks Store. More information can be found on Goodreads.
online
The stories can also be read online at Urban Volcano:
Good Morning // Jasmine // Point Of View // Blindness // Nail-bite // Get a Life! // Freedom // Walking Against The Flow // Energy Transfer // Purpose of Fiction // Köningsegg // Waves // 20F // Nodding Heads // The Letter // Out Of Touch With Virtual Reality // Protest // Insomnia // The Time Machine // Blood Revenge // The Secret Book // What do I Think About When I Think About Life? // To Sit On One's Inner Child // Sharks // The outer edge of the solar system // Comfortable Silence // Kathmandu and Kaiserslautern // Death of a Bullfighter // The Doodle // How are you? // Downpour // Seeking Monarch // Chill // The Novel // Chasing a Dream // The Sign // Museum of Peace // Payback // Playtime // Senses // The Norbert Peterson Tower // Something Is Not Right // Friendly Fire // Superhuman // The Body That Cried // Train Story // The Rocks // The Barber // The Dog Whisperer // The Street Cleaner // The Autobiography // Forward Thinking